About Dekadance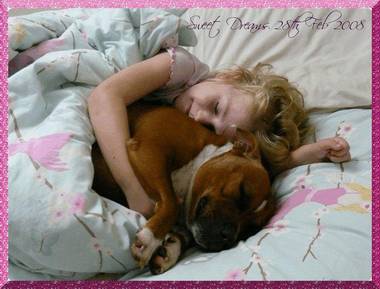 Ou1995 saw our first fur baby join our family - his name was Cam and he was a Cavalier King Charles Spaniel. he was shortly followed by Ollie (annother CKCS). Cams breeder Lynne encouraged us to show him and she went on to be a mentor, friend and surrogate Nana to our 2 legged children.
2002 saw our first Staffordshire Bull Terrier enter our family - and the passion was then ignited!
I have always held a huge respect for all creatures great and small and believe that all animals need understanding and love. It was my passion to intergrate into my surroundings and to continue to enjoy it to its fullest, so with that in 2013 my dream home was built on 5 1/4 acres, maintaining the majority of virgin bush.
In my household my animals are considered a valuable part of the family! They sleep inside the house, and are free to come in and out when they like. I do not agree with the thought that "a dog lives in the back yard, and thats it".
My goal is the encouragment of type and temperament within the Staffordshire Bull Terrier and French Bulldog breeds. I believe there are too many people out there breeding "for profit", not the benefit of the breed and therefore I am striving (along with others) to prove "that healthy sound dogs fit for function, with sound temperaments are still alive and well".
I do not breed regularily, with my focus more on the promotion of the Breeds, through showing and education. However when I do breed it is done with research and respected advise from other Breeders.




My dogs are raised in a family environment, with a direct emphasis placed on their wellbeing - they are not "just the dog" they are a valuable part of the family.

As mentioned - my dogs ARE shown and ARE consistant winners; although as exciting and important this is, it really is just the icing on the cake for me. At the end of the day, win or lose I love them completely anyway (as it should be)!
Dekadance is proud to say that all our dogs are health tested accordingly and are all certified "Clear" of genetic desease.
Certificates can be provided on request.